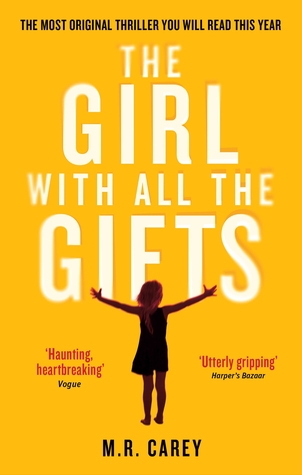 Title & Author:
 The Girl With All the Gifts  
Series:
N/A
 Publisher: 
Orbit, 
 Release Date:
June 19, 2014  
Genre: 
Science Fiction  
Source: 
Provided by publisher (Thank you!)    
 

Amazon

  |  

Goodreads

  |  M.R. Carey
 SYNOPSIS: (According to my husband, who has NOT read the book —  see how well he listens to my bookish ramblings)
 Zombies have taken over.  Not just any zombies… some of these zombies are creepy children that are locked up in cells because they are kind of still humans.  Nutjob doctors want to dissect them.  Nice teachers want to love them.  Some guys want to pee their pants just looking at them.  THE WORLD IS GOING TO END.  Can the girl with all the gifts save them?